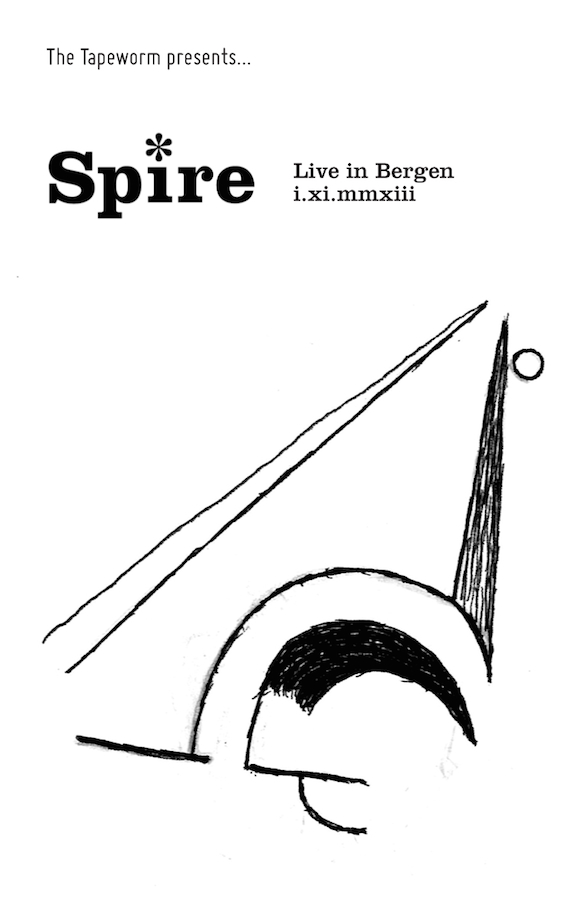 Recorded on 1st November 2013 as part of Bergen Kirkeautunnale, Norway
Featuring BJNilsen & John Beaumont's Black Death, a new project using voice (tenor) and electronics; Charles Matthews's repertoire includes performances of organ pieces by Arvo Pärt, Giacinto Scelsi and Johan Sebastian Bach; Marcus Davidson's Ananta is released for the first time, and Spire regulars The Eternal Chord and The Spire Ensemble also perform.
This cassette will be released in July 2014
Liner notes:
A1: Charles Matthews plays JS Bach "Komm, Heiliger Geist", A2: Charles Matthews plays Giacinto Scelsi "In Nomine Lucis", A3. BJNilsen and John Beaumont "Black Death"
B1: The Eternal Chord "The Eternal Chord (Live)", B2: Marcus Davidson "Ananta", B3: The Spire Ensemble "Live In Bergen", B4: Charles Matthews plays Arvo Pärt "Pari Intervallo"
Recorded on 1.11.13 as part of Bergen Kirkeautunnale 2013, with thanks to Kjetil Almenning and Møyfrid Fuglestad. Published by Touch Music [MCPS] except – A2: Editions Salabert/G Ricordi & Co.; B4: Universal Edition.
Illustration – Art I Cho.
This cassette is an aspiring product of The Tapeworm – "give the peasants champagne and they still want dirty water" TTW#70, copyright 2014 The Tapeworm.
This cassette item is now sold out