19. Spire Live at Chichester Cathedral, Chichester 7th September 2019
Charles Matthews
Claire M Singer
The Eternal Chord
*"Estampie", from the Robertsbridge Codex (this dates from the 14th C)
Claire M Singer – "Wrangham"
The Eternal Chord l
*J.S. Bach: "Pièce d'orgue" (Fantasia in G major)
Claire M Singer – "Diobaig"
Claire M Singer – "Dhachaigh" *World Premier*
The Eternal Chord ll
*Nicholas Scott-Burt: "Keep Silence", from Paraphrases
*Deszo Antallfy-Zsiross – "Sketches on Negro Spiritual Songs"
Claire M Singer – "Solas"
The Eternal Chord lll
*Muffat: "Ciacona"
*Saint-Saëns (arranged for organ solo by David Briggs) – "Finale", from Symphony no. 3
*played by Charles Matthews
18. Spire Live at The German Evangelical Church, Athens 6th April 2019
8-10pm
Estampie [from the Robertsbridge Codex] (organ solo played by Charles Matthews)
Claire M Singer – Wrangham | Diobaig | Solas
pause
Philip Glass – Music in Fifths l (organ solo played by Charles Matthews)
The Eternal Chord – Organologos (Improvised organ duet played by Mike Harding & Claire M Singer)
Janácek: Organ Solo from Glagolitic Mass (played by Charles Matthews)
Antallfy-Zsiross Dezső: Sketches on Negro Spiritual Songs (organ solo played by Charles Matthews)
Anargyros Deniozos – Points and Lines (organ solo)
pause
Sohrab (solo electronics)
Arvo Pärt: Annum per annum (organ solo played by Charles Matthews)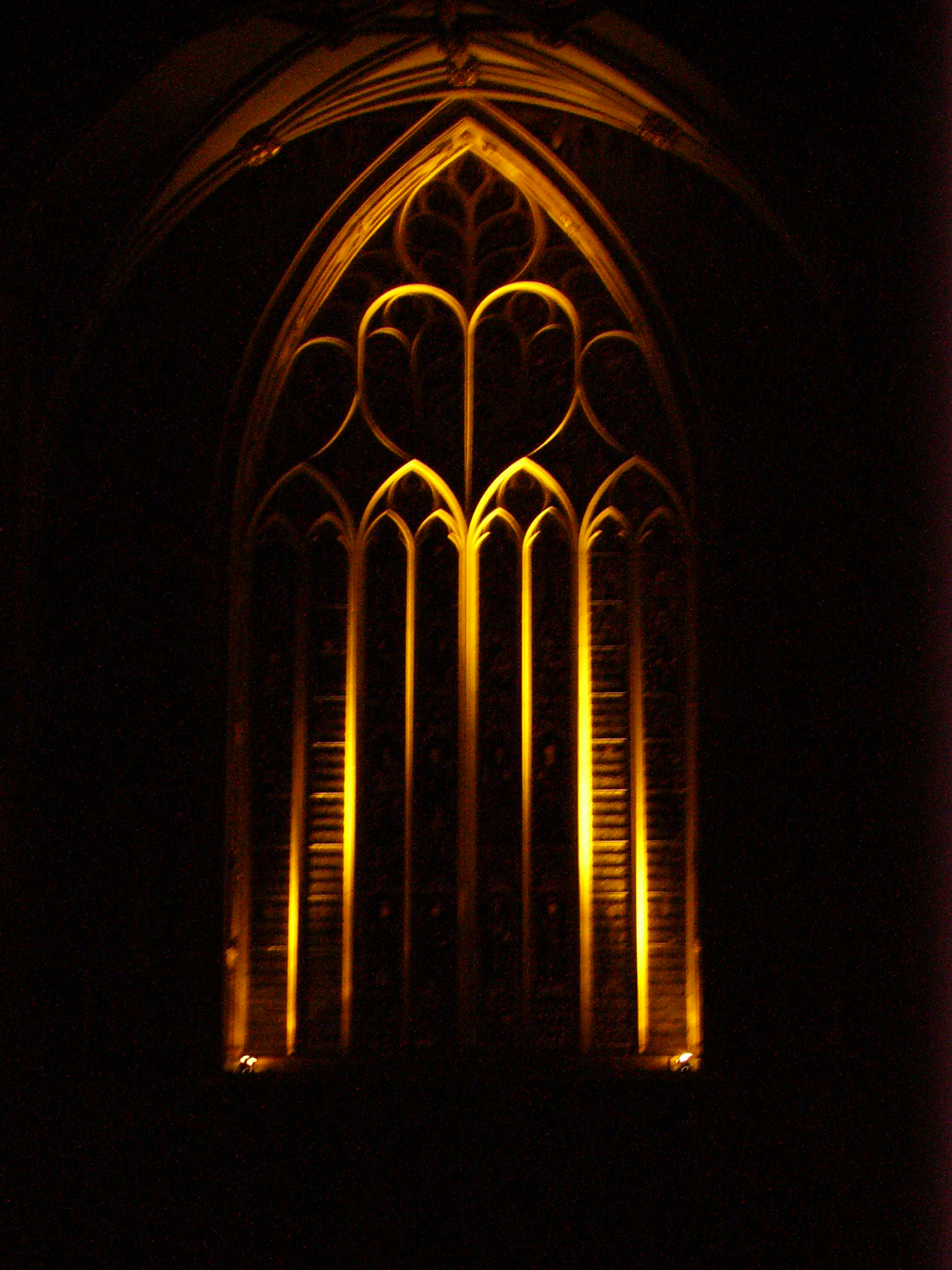 17. Spire Live at Union Chapel, London 8th October 2016
7-1030pm
Part One (7-845pm)
Charles Matthews from The Robertsbridge Codex (organ)
Simon Scott (organ and laptop)
The Eternal Chord (organ) with John Beaumont (voice)
Charles Matthews – Stasis: Wastelands of Sleep from Andrew Glover-Whitley's Symphony no.4 (organ)
Philip Jeck (turntables)
Charles Matthews plays Philip Glass: Music in Fifths (organ)
Interval – John Beaumont (voice)
Part Two (9-1030pm)
Fennesz (guitar and laptop)
Claire M Singer – The Molendinar (organ)
The Spire Ensemble – Peace in D minor
Charles Matthews plays Charles Camilleri "Sonata Semplice" (piano)
16. Spire Live in Cambridge 26th February 2016
5-9pm
Intro: Charles Matthews plays Philip Glass "Music in Fifths" (Organ)
Charles Matthews plays The Robertsbridge Codex – extracts (Piano)
Simon Scott (Stage)
Charles Matthews plays Michael Nyman "Fourths, Mostly" (Organ)
Marcus Davidson & John Beaumont "Missa Pro Defunctis Elektro" (Stage)
INTERVAL
John Beaumont (tenor) entertains those who haven't gone to the pub
Claire M Singer – "The Molendinar" (Organ & electronics)
Charles Matthews plays Alfred Schnittke "Two Pieces for Organ" (Organ)
Philip Jeck (Stage)
…followed by The Eternal Chord & The Spire Ensemble (all)
Charles Matthews plays Charles Camilleri "Sonata Semplice" (Piano)
15. Spire Live in Bergen 1st November 2013
7:30 – 9pm
Charles Camillieri: Sonata Semplice
JS Bach; Komm, Heiliger Geist
Marcus Davidson; The Passing
Scelsi; In Nomine Lucis
BJNilsen and John Beaumont; electronics and voice
The Eternal Chord
Marcus Davidson; Ananta – world premier
Organology; ensemble
Arvo Pärt, Pari Intervallo
14. Spire live in Mautern 11th October 2013
7-10pm
PART ONE 7pm-8:15pm
Charles Camilleri: Lento, (from Sonata semplice)
Johann Caspar Ferdinand Fischer – Prelude no.8, six fugues and finale, from "Blumen Strauss"
Marcus Davidson – The Passing
Johann Nepomuk David – Movement 3 from Partita on BACH
Philip Jeck (solo)
INTERVAL
PART TWO 8:30pm – 10pm
Erik Satie – Prière pour le salut de mon âme
Leos Janacek – Organ solo from Glagolitic Mass
"The Austrian Hour" – Christian Fennesz & Burkhard Stangl
Arvo Pärt – Pari Intervallo
The Eternal Organ
»
Organ Massive
end 10:15pm approx
13. Spire Live in London 21st June 2012
Charles Camilleri – Sonata Semplice
JS Bach – Komm, heiliger Geist
Ligeti – Harmonies
Diana Burrell – Lauds
Arvo Pärt – Pari Intervallo
Marcus Davidson – The Conscious Sky
12. Spire Live in Berlin 5th February 2012
CMT12, Passionskirche
8pm – midnight
Giacinto Scelsi: In Nomine Lucis (Charles Matthews, organ)
Jana Winderen (solo)
Olivier Messiaen: Chants d'Oiseaux (Charles Matthews, organ)
Interval (short)
Marcus Davidson: Sacred Space (Marcus Davidson, laptop/Charles Matthews, organ)
Gyorgy Ligeti: Coulée (Charles Matthews, organ)
Hildur Gudnadottir (solo)
Frank Martin: Passacaille (Charles Matthews, organ)
Interval (long)
Charles Camilleri: Lento, (from Sonata semplice) (Charles Matthews, piano)
Marcus Davidson: The Passing (Marcus Davidson, organ and tape)
Stephen Montague: Paramell III (Charles Matthews, piano)
The Eternal Chord (Anon, organ)
Interval (short)
Eleh (solo)
Arvo Pärt: Pari Intervallo (Charles Matthews, organ)
11. Spire Live in Lincoln 21st October 2011
Frequency Festival, Lincoln Cathedral
7:30pm – 10:30pm
Charles Matthews Plays:
Anonymous – Annabasanna: from the Buxheim Organbook c. 1460
Morton Feldman – Principal Sound
Messiaen – Chants d'Oiseaux
Marcus Davidson – Festival Volontary
Franz Danksagmuller – Estampie
Anonymous – Estampie: from the Robertsbridge Codex, 1360
Philip Jeck
BJNilsen
John Beaumont sings:
William Byrd (c.1540 – 1623) – "Psalmes" (taken from the "Psalmes, sonets & songs of sadnes and piete"), published in 1588
and during the interval –
Medieval plainsong:
1. Te Deum Laudamus
2. Ite Missa Est
3. The Play of Herod (anonymous) from the Fleury-play-book, 12th Century
Charles Matthews & Mike Harding: The Eternal Chord
The Spire Ensemble: Organogram
10. Spire Live in Riga 23rd May 2009
St. Saviour's Anglican Church, Riga, Latvia
Jana Winderen
Santa Ratniece (ergelmuziku izpilda Charles Matthews, perkusijas – Elina Endzele, Virdzinija Mutlu): Song of the dunes
Philip Jeck
Charles Matthews & Mike Harding: The Eternal Chord
Charles Matthews plays:
Charles Tournemire: Prelude for the introit on Ascension Day (c. 1928)
Liana Alexandra: Allegro veloce e caratteristico in honorem J.S. Bach (1985)
From tablature of Adam Ileborgh: Frowe al myn hoffen an dyr lyed (c. 1448)
J.S. Bach: Partita on 'Ach, was soll ich Su"nder machen' (c. 1710)
Stephen Montague: Behold a pale horse (1990/1)
From the Robertsbridge Codex: Alleluya/Firmissime/Benedictus (c.1360)
From the Buxheim organ-book: Annabasanna (c. 1460)
Jehan Alain: The hanging garden (1934)
The Spire Ensemble: Organography
Charles Matthews plays Hildur Gudnadottir: Nacre (Light show by Elin Hansdottir)
9. Spire Live in Norheimsund 21st June 2008
Hardingtonar Festival, Norheimsund, Norway
Marcus Davidson
Philip Jeck
Charles Matthews
BJNilsen
Jana Winderen
1600 Hotel Sandveg
Hardanger Fiddle Orchestra conducted by Marcus Davidson
Geirr Tveitt's work was underpinned by idioms derived from Norwegian folk-music and folk played an essential part in his musical development
Hardingfele ensemble of 15 local players and 5 professionals. World premiere of a new piece composed for the festival by Marcus Davidson
Kino – 1700
Tveitt won considerable acclaim in continental Europe and elsewhere performing his own compositions. Philip Jeck uses vinyl discs of Tveitt recordings to build up layers of sound which reveal the complexities and myriad of influences on his work.
Charles Matthews plays Takemitsu ­ Rain Dreaming
(Harpsichord)
Philip Jeck
(Turntables & sampler)
Charles Matthews plays Bach ­ Partita no.1 in B flat
(Harpsichord)
Toru Takemitsu's thoughtful atmospheric character links all the elements of the programme. The idea for the 'Partita' came from the note with the CD of Tveitt's early piano pieces, detailing his inspiration from Bach's Well-tempered Keyboard.
Norheimsund Church – 1800
Geirr Tveitt lived most of his life under the shadow of the glacier Folgefonna. Nature was a permanent inspiration to him; in this section the artists explore this influence on Geirr Tveitt's work. Jana Winderen uses recordings made on the Folgefonna itself.
Charles Matthews plays Takemitsu ­ Les Yeux Clos II
(Piano)
Jana Winderen
(Electronics)
Charles Matthews plays Geirr Tveitt ­ Three pieces from his orchestral 'Reisebilleder' in a transcription for organ: 'Via Appia'…
Marcus Davidson
(Grand Piano & Electronics)
Marcus Davidson plays Geirr Tveitt – A new piece based on the beginning of the second movement of Tveitt's Piano Sonata no.29
Charles Matthews plays Geirr Tveitt: 'El Escorial'…
BJNilsen
(Electronics)
BJNilsen's fractured and emotional treatments reflect the loss and the restoration which took place during the later years of Tveitt's life. Using samples and fragments of his piano recordings, BJNilsen explores the extreme emotional journey of Geirr Tveitt's later life.
Charles Matthews plays Geirr Tveitt: 'Stjernhimmel over Sahara'…
Spire Ensemble: Organology
8. Spire Live in York Minster 20th January 2007
York Minster, York
Bells: York Minster Society of Change Ringers
Main Organ: Charles Matthews & Marcus Davidson
Fennesz
Philip Jeck
BJNilsen
Soloists: Robert Millner, John Beaumont & Amy Moore
1300-1600 Leif Inge – Installation: Bach's Toccata and Fugue
The West Tower:
16.00 – 17.15 and 18.15 – 19.00
York Minster Society of Change Ringers: performing examples of "methods" – some of the earliest of bell ringing patterns, including Grandsire and Stedman Caters.
Spire part one:
1900 – 1950
Charles Matthews, Chamber Organ: Anon (from the Buxheim Organbook, c.1460): Annabasanna
Marcus Davidson, Main Organ & 3 soloists: The Grey Book [1st performance]
The Chapterhouse: Fennesz
Charles Matthews, Main Organ & Robert Millner, Tenor: Om Mani (Marcus Davidson)
Charles Matthews, Main Organ: Maurice Duruflé: Toccata
Interval: Plainchant sung by John Beaumont: The Play of Herod
Spire part two:
2000-2050
Charles Matthews, Main Organ: Giacinto Scelsi: In Nomine Lucis
The Nave: Philip Jeck
Marcus Davidson: Main Organ & Tape: The Passing [1st performance]
Charles Matthews, Main Organ, Marcus Davidson, Grand Piano, Robert Millner, Tenor: Focus: La Cathédrale de Strasbourg [Thijs van Leer] arr. Marcus Davidson
Interval: Plainchant sung by John Beaumont: The Play of Herod [cont.]
Spire part three:
2100-2150
Marcus Davidson, Main Organ: Gorécki: Kantata for Organ op. 26
The Knave: BJNilsen
Charles Matthews, Main Organ: Charles Spinks: 3 Arabesques
Charles Matthews, Main Organ: Arvo Pärt: Pari Intervallo
3 Soloists: Philippe de Vitry: Adesto-Firmissime-Alleluia (from the Roman de Fauvel, c.1315)
this is repeated by: Charles Matthews, Chamber Organ: Philippe de Vitry: Adesto-Firmissime-Alleluia (keyboard version from the Robertsbridge Codex, c.1360)
7. Spire Live in Linz 2nd September 2006
St. Florian, Linz [Ars Electronica]
The Brückner Organ: Charles Matthews & Robert Kovacs
Fennesz
Philip Jeck
Organoise
Morning concert 11 am – 11:30 am:
Charles Matthews, Cabinet Organ: Estampie [from the Robertsbridge Codex]
Robert Kovacs, Organ: J.S.Bach – Toccata and Fugue in F major
Charles Matthews, Organ: Liana Alexandra – Consonances III
Leif Inge – Installation: Bach's Toccata and Fugue
Evening concert 7:30 pm – 9:00 pm:
Charles Matthews, Organ: Anton Bruckner – Scherzo from Symphony no.2 (transcription by Erwin Horn)
Philip Jeck
Robert Kovacs, Organ: Franz Schmidt – Toccata in C major
Charles Matthews, Organ: Robert Schumann – Fugue no. 1 on Bach, and Study no.4
Robert Kovacs, Organ: Improvisation
Fennesz
Charles Matthews, Organ: Francis Routh – Mystery
Charles Matthews, Organ: Arvo Pärt – Pari Intervallo
Organoise
6. Spire Live in Amsterdam 24th June 2006
Oude Kerk, Amsterdam [The Holland Festival]
The Great Organ: Charles Matthews & Marcus Davidson
Transept Organ: Marcus Davidson
Cabinet Organ: Charles Matthews
Grand Piano: Marcus Davidson & Cor Fuhler
Soloist: Robert Millner
Fennesz
Philip Jeck
Organoise
2300 Charles Matthews, Cabinet Organ: John Bull: In Nomine
2306 Marcus Davidson, Transept Organ & Robert Millner, Tenor: Laudate Dominum
2311 Fennesz
2332 Marcus Davidson, Transept Organ & Robert Millner, Tenor: Chorale
2334 Charles Matthews, The Great Organ: J S Bach: Prelude on Jesus Christus, unser Heiland
2338 Charles Matthews, The Great Organ: Sem Dresden: Toccata, Chorale & Fugue
2350 Cor Fuhler, Grand Piano
0009 Marcus Davidson, The Great Organ: Gorécki: Kantata for Organ op. 26
0025 Charles Matthews, The Cabinet Organ: Sweelinck: Fantasia Chromatica
0034 Marcus Davidson, Grand Piano: Elergy
0042 Charles Matthews, Transept Organ & Robert Millner, Tenor: Daan Manneke: Zeven Vocalises voor Middenstem
0053 Philip Jeck
0125 Charles Matthews, Chamber Organ: Robertsbridge Codex: Estampie [c.1335]
0133 Charles Matthews, The Great Organ, Marcus Davidson, Grand Piano & Robert Millner, Tenor: Focus: La Cathédrale de Strasbourg [Thijs van Leer] arr. Marcus Davidson
0142 Ensemble: The Great Organ, Transept Organ, Cabinet Organ, Grand Piano & Electronics: Spire Live: Organoise
5. Spire Live in Jesmond 13th May 2006
St. George's Church, Jesmond
Main Organ: Charles Matthews & Marcus Davidson
Portable Organ: Marcus Davidson & BJNilsen
Soloist: Robert Millner
Fennesz
Philip Jeck
BJNilsen
Organoise
1830 Charles Matthews, Main Organ & Robert Millner, Tenor: JS Bach: Komm, heiliger Geist
1837 Philip Jeck
1918 Charles Matthews, Main Organ: Max Reger: Introduction & Passacaglia in F minor
1930 Charles Matthews, Main Organ & Robert Millner, Tenor: Marcus Davidson: Om Mani
1940 Marcus Davidson, Main Organ: Henryk Gorécki: Kantata for Organ op. 26
1955 BJNilsen: Chamber Organ & Electronics
2030 Interval
2100 Charles Matthews, Main Organ & Robert Millner, Tenor: JS Bach: Herr Jesu Christ, dich zu uns wend
2107 Fennesz
2142 Charles Matthews, Main Organ: Sofia Gubaidulina: hell und dunkel
2150 Marcus Davidson, Main Organ & Robert Millner, Tenor: Laudate Dominum
2200 Charles Matthews, Main Organ: Maurice Duruflé: Toccata
2210 Marcus Davidson, Main Organ: Arvo Pärt: Pari Intervallo
2215 Ensemble: Main Organ, Chamber Organ & Electronics: Spire Live: Organoise
4. Spire Live in Leeds 12th May 2006
Leeds Town Hall [FuseLeeds06]
Main Organ & Portable Organ: Charles Matthews & Marcus Davidson
Soloist: Robert Millner
Fennesz
BJNilsen
Organoise
1930 Charles Matthews, Chamber Organ: Robertsbridge Codex: Estampie (l) [c.1335]
1940 Charles Matthews, Main Organ: Ronald Perrin: A Spanish Toccata
1945 Marcus Davidson, Main Organ: Gorécki: Kantata for Organ op. 26
2000 BJNilsen
2030 Charles Matthews, Main Organ & Robert Millner, Tenor: Arnold Cooke: Boat Song [music by Arnold Cooke, words by John Davidson]
2040 Charles Matthews, Main Organ: Max Reger: Introduction & Passacaglia in F minor
2100 Charles Matthews, Main Organ: Giacinto Scelsi: In Nomine Lucis
2110 Ensemble: Main Organ, Chamber Organ & Electronics: Spire Live: Organoise
2130 Interval
2150 Charles Matthews, Main Organ: Maurice Duruflé: Toccata
2200 Charles Matthews, Main Organ: Sofia Gubaidulina: hell und dunkel
2210 Marcus Davidson, Main Organ & BJNilsen, Chamber Organ/Electronics: Davidson/Nilsen: Duet
2225 Charles Matthews, Main Organ & CD: Jonathan Harvey: Toccata
2230 Marcus Davidson, Main Organ & Robert Millner, Tenor: Marcus Davidson: Laudate Domine
2235 Fennesz
2310 Marcus Davidson, Main Organ: Arvo Part: Pari Intervallo
2325 Charles Matthews, Chamber Organ: Robertsbridge Codex: Estampie (ll) [c.1335]
1900-2330 Leif Inge [The Court Room] Installation: Bach's Toccata and Fugue
3. Spire Live in Brussels 7th May 2006
St. Michel & St. Gudula Cathedral [Les Nuits Botaniques]
Main Organ: Charles Matthews & Xavier Deprez
Portable Organ: Charles Matthews
Philip Jeck
Fennesz
Les Musiques Nouvelles
2000 Charles Matthews, Chamber Organ: Robertsbridge Codex: Estampie (l) [c.1335]
2008 Xavier Deprez, Main Organ & Musiques Nouvelles, Strings: Arvo Pärt, Fratres
2020 Xavier Deprez, Main Organ & Musiques Nouvelles, Strings: Henryk Gorécki: Concerto for Keyboard
2046 Philip Jeck
2103 Charles Matthews, Main Organ: Giacinto Scelsi: In Nomine Lucis
2106 Christian Fennesz
2136 Charles Matthews, Main Organ: Maurice Duruflé: Toccata
2146 Xavier Deprez, Main Organ & Musiques Nouvelles, strings: Jean-Paul Dessy: Drawn by Drones for six hands, three feet and a pencil
2152 Charles Matthews, Chamber Organ: Robertsbridge Codex: Estampie (ll) [c.1335]
The original programme for the event may be downloaded here
2. Spire Live in Göteborg 4th October 2005
Masthuggs Church [GAS Festival]
Main Organ: Charles Matthews & Marcus Davidson
Soloist: Robert Millner
Fennesz
Philip Jeck
BJNilsen
Interval: Henrik Rylander & Leif Elggren
2000 Philip Jeck
2045
J S Bach – Passacaglia [Organ: Charles Matthews] 13:00
Rune Lindblad – Death of the Moon [Organ: Marcus Davidson/Electronics: BJNilsen] 8:30
Franz Lizst – Les Morts [Organ: Charles Matthews/Tenor: Rob Millner] 7:30
Marcus Davidson – The Beeldenstorm [Organ: Charles Matthews/Tenor: Rob Millner. Lyrics: Mike Harding] 5:00
Sven-Eric Johanson – Sonata [Organ: Charles Matthews] 7:00
Marcus Davidson – Standing Wave [Organ: Marcus Davidson] 12:00
2145 BJNilsen
2230 Interval: Chamber Music by Leif Elggren & Henrik Rylander
2245
Anonymous – Estampie: from the Robertsbridge Codex, 1360 [Organ: Charles Matthews] 8:00
Enrico Bossi – Scherzo in G minor [Charles Matthews] 5:30
Kurt Atterberg – Preludium et Fuga [Charles Matthews] 5:15
Marcus Davidson – Om Mani Padme [Organ: Charles Matthews/Tenor: Rob Millner] 5:15
Jehan Alain – Litanies [Charles Matthews] 5:00
Arvo Pärt – Pari Intervallo [Organ: Charles Matthews] 5:33
2330 Fennesz
1. Spire Live in Geneva 5th September 2004
Cathedral Saint Pierre [La Batie Festival]
Main Organ: Charles Matthews & Marcus Davidson
La Petite Chapelle: Fennesz & BJNilsen
The Crypt: Philip Jeck
1930 Charles Matthews plays:
Olivier Messiaen – Soixante-quatre durées, from Livre d'orgue
André Jolivet – Hymne a l'Univers
Marcus Davidson – Organ Psalm no.3
Liana Alexandra – Consonances III
Marcus Davidson – Opposites Attract
Olivier Messiaen – Apparition de l'Eglise eternelle
2040 Marcus Davidson plays Henryk Gorecki – Kantata for organ Op. 26
2100 BJNilsen
2200 Philip Jeck
2300 Fennesz