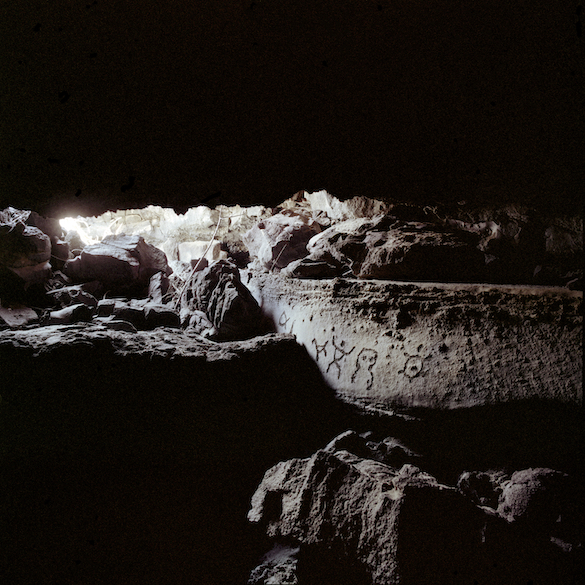 Various Artists – Bis dat [Spire 7.2]
Digital only – 8 tracks – over 100 minutes of music!
Available to pre-order now on Bandcamp | theeternalchord.bandcamp.com/album/bis-dat
Release date 6th May 2022
Reviewed by Mat Smith of Further. here
Track listing:
1. Zachary Paul – Sunken Cathedral 13:52
2. Faith Coloccia – Voice lV Sarcode 15:47
3. BJNilsen – Pressurised 15:40
4. Alcibiades – Omicronology 10:40
5. Yenting Hsu – Summer whisper 4:38
6. Rhodri Davies – HAARP 31:53
7. strom|morts – Absolute Magnitude Hermeticism 9:37
8. The Eternal Chord – Omnia transeunt 5:51 *This track released with pre-order
Photo taken on July 11, 1989 by Daniel Blau at Cave No.15 along Kaaha-Halapepe trail, Kau, Hawaii, elevation 109m above sea level, 325 degree N to Hilina Pali outlook © Daniel Blau, Salzburg
Dedicated to Didier Séverin of strom|morts, who left us too early.
After 'Mutatis mutandis' [Spire 7.1, 2020], 'Bis dat', meaning 'Give more', features 7 exclusive new compositions, using source material from 'Semper Liber', the album from The Eternal Chord collective of musicians (or not…)… Immersive and compelling, challenging and seductive, 'Bis dat' expands the organ repertoire into new territory, earthly and unearthly, past and present.
Zachary Paul's violin and electronics plunge into the deep and he reimagines a drowned world, the spire still resplendent as creatures take up their new home; Faith Coloccia (mammifer, SIGE) continues her voice explorations and takes us to the skies, seeking the thermals – beyond the planets, even – while BJNilsen rams home the power of the beast (the organ was above all an instrument of clerical authority), a blistering piece using organ samples from Henry Willis's Union Chapel organ in London. Alcibiades (Jay Glass Dubs & venoztks) combine Balkanology with organ samples to create a haunting, swirling miasmic oracle, and Yen-Ting Hsu guides us to gentler pastures with 'Summer whisper'. But danger lurks therein – we know what's coming and there are always storms close by – and Rhodri Davies reminds us you can't tame the beast, merely accompany and marvel. His unaccompanied harp fought the sounds of building reconstruction at his location – we don't control these things, merely adapt and struggle on. strom|morts (swiss post-metal veterans) present a rich, massive alpine and wise gloom of sonics. And to finish the journey, or more likely start it, The Eternal Chord's 'Omnia transeunt' is impossible to pin down and grasp firmly where it is – and where it might go! Plucked from the ether and moulded into a tuneful (at times) trip into another atmosphere. Let's Go!